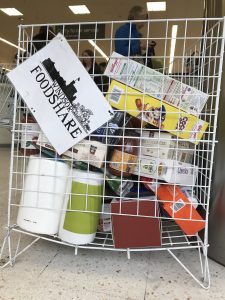 We are extremely grateful for donations of the items listed below. Please do not donate any other food (non perishable items please!), as we may not be able to use it.
Tinned meat · Tinned fish · Tinned vegetables· Soup · Rice · Herbs/Spices
Cooking sauces · Instant mash · Tea bags/Instant coffee · Sugar
Breakfast cereals · UHT milk
Tinned desserts · Cereal bars/biscuits · Jams · Fruit juice/Squash
DONATION POINTS
Local Churches, most have a collection box, please check their individual websites for opening times.
Tesco Dedworth, there is a wooden box behind the tills. This is emptied twice a week.
Waitrose Windsor, there are collection baskets behind the tills and near customer services.
Homer First School, Parents are welcome to send in donations with children
Reeds Service Station, Wraysbury, 86 Welley Road, TW19 5EP
Woody's Cafe, pirate park, Dedworth Memorial Park
There may be other drop off options soon, please check back soon for more details.
FINANCIAL DONATIONS
We also welcome financial donations, especially as we are looking to provide some fresh fruit and vegetables very soon.
Sort Code: 40-52-40 Account Number: 00030432
Account name: Windsor Foodshare
If you are able to Gift Aid donations, please contact sarah@windsorfoodshare.org.uk