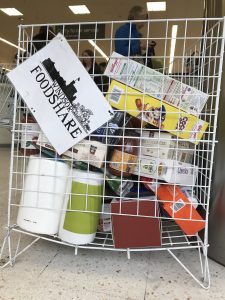 We are extremely grateful for donations of the items listed below. Please do not donate any other food (no perishable items please!), as we may not be able to use it.
Tinned meat · Tinned fish · Tinned vegetables· Soup · Rice · Herbs/Spices
Cooking sauces · Instant mash · Tea bags/Instant coffee · Sugar
Breakfast cereals · UHT milk 
Tinned desserts · Cereal bars/biscuits · Jams · Fruit juice
Donations can be taken to any local church, please see their individual opening and/or service times.
Other drop off points
Tesco in Dedworth and Waitrose in Windsor town centre usually have a bin/area to donate items you are able to donate (eg BOGOFF items – you keep one and donate the other).
There may be other drop off options soon, please check back soon for more details.